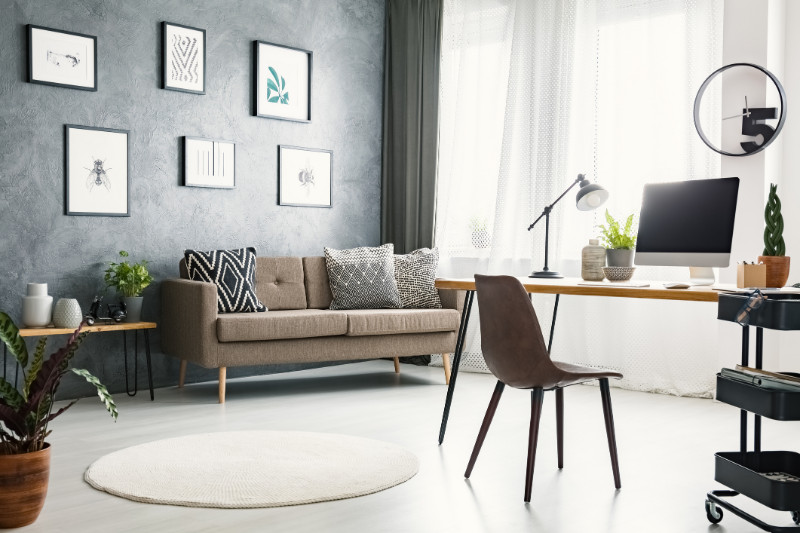 Are you thinking about changing up your home's interior? From nature-inspired elements to multi-use spaces, these interior design trends will not only spruce up your home but boost its value as well.
Give your home a stylish makeover with these fresh ideas:
Incorporate a biophilic design

Nature has a special way of bringing peace, tranquility, and a calming environment. It even increases productivity and improves sleep. With most of our days spent indoors, it's no wonder biophilic designs have made their way into many homes. A biophilic design makes use of plants, natural lighting, and other elements of nature.

Maximizing natural lighting, for one, is a key element of a biophilic design. There are plenty of ways to increase natural light, from adding more mirrors (reflective surfaces make rooms look bigger) to installing larger windows. Removing or rearranging your furniture so they don't block windows also helps in bringing more natural light into your home. 

Create home offices and multi-use spaces

One of the features that most homebuyers look for nowadays are home offices. Since working from home has become the norm, a dedicated office space is in high demand. Money.com reports that buyers are willing to pay extra for a space that allows them to separate their work from their home life. 

The bedroom, dining room, or living room can also double as a home office space. If you plan on creating a shared space, you can use dividers, freestanding bookshelves, or shelf walls.  

Add a fresh coat of paint

Breathe new life into your home by repainting your interiors. Aside from being  aesthetically pleasing, it also freshens up the space, adds character, and even improves air quality.  

Among the trending colors for interior design are muted grays, warm white colors, and calming neutrals. You can also try deviating from the usual paint colors by going with nature-inspired greens, soothing blue shades, and dark earth tones. 

Extra storage space

When it comes to increasing the value of your home, storage solutions are a key element. Homebuyers can never get enough of extra storage space. Whether it's a larger closet or a dedicated laundry room, additional space increases the functionality and value of your home. 

One design trend that is specific to the kitchen are upgraded pantries. According to Forbes, a "working pantry" is an emerging trend that you'll be seeing more often. This type of storage space is modest in size but succeeds in providing a convenient area for frequently used kitchen supplies. 

Improve your outdoor living space

Your outdoor space is just as important as your interior. If you're looking to spruce up your backyard, consider adding a fire pit. Fire pits are cozy gathering zones for family and friends. They also illuminate the area and serve as the perfect focal point for your outdoor space. Homeowners can recoup as much as 78% of the cost of installing one.
Discover more tips on how to increase your home's value with The Yoshikane-Toyama Real Estate Group. Get in touch with the team today at  714.501.7132 or send an email to J_Toyama(at)verizon(dotted)net. Feel free to check out other home selling topics on their blog.