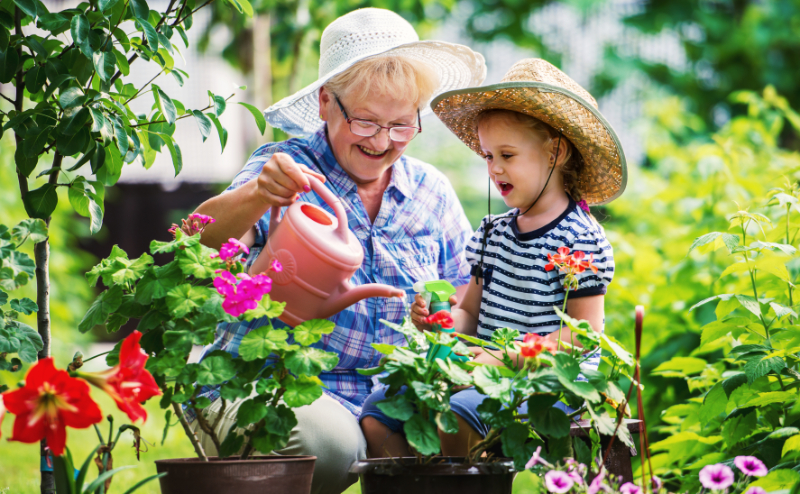 Expansive backyard spaces continue to be one of the most desirable features among homes for sale in Orange County, CA in 2023.
Whether you're a seller looking to add appeal and value to your home or a homeowner wanting to personalize your newly-acquired property, here are some trendy backyard design ideas that can help you make the most of your outdoor space, regardless of size.
REVAMP YOUR GARDEN
Garden trends are taking a bold and creative turn this year. Say goodbye to neatly manicured lawns and hello to maximalist gardens bursting with volume, texture, and playful planting.
Layering is key so make sure to use flowers and plants of different heights and textures to create an eye-catching garden landscape.
Limited outdoor space? Try vertical planting instead! Climbers like hawthorn, roses, and honeysuckle can be grown on trellises or walls, creating a stunning real-life flower wall that adds a unique touch to any balcony or porch.
CREATE YOUR OWN OUTDOOR SPA
You can create your own serene oasis in your Orange County backyard. Spa-inspired upgrades like saunas, day beds, and yoga platforms can offer you relaxation, rejuvenation, and a touch of luxury right at home. Consider adding outdoor speakers and lounge chairs, with soft lighting to create a calming atmosphere.
Cold-plunge tubs that draw from Scandinavian practices of hot and cold therapy have also gained popularity. They can be used on their own or paired with heat sources like infrared saunas.
DESIGN A CHIC LOUNGE AREA
With its amazing climate and breathtaking natural beauty, Orange County offers the perfect backdrop for creating a stylish and inviting lounge area in your backyard. Here are some ideas for maximizing your outdoor living experience:
Create hammock nooks. Make use of those narrow side yards by creating a cozy hammock nook or lounge area. Tucked away in a secluded area, introverts will find this perfect for unwinding and enjoying some privacy at the end of the day.

Install a wheel bench. This unique bench/shed hybrid offers a chic and sheltered spot to relax and enjoy nature, even in bad weather. Place it in a sunny spot at the end of your garden or wherever you like to spend your time.

Use rattan furniture. Rattan outdoor garden furniture continues to be popular for backyard renovation projects because of its durability, sturdiness, and visual appeal. Whether you prefer neutral colors for a timeless look or bold designs in vibrant hues, you'll find your preferred color and style among the wide selection of rattan furniture.

Embrace the "cottagecore" lifestyle. Add a touch of whimsy to your outdoor space by incorporating pebbled paths, vintage-looking benches for two, sundials, wildflowers, and natural stone paths. You can also use old-fashioned watering cans for your plants, shrubs, and herbs instead of traditional pots.

Consider adhesive tiles. Adhesive tiles and flooring are gaining popularity in outdoor spaces. Not only do they offer an affordable way to refresh your patio or balcony but they also come in a wide variety of patterns, colors, and textures. Ranging from ornate faux stone to fake grass and wooden slats, these flooring options offer an easy way to update and adapt your space to changing trends.
Planning to sell your home in Orange County, CA? Work with local professionals with expertise and experience in this real estate transaction. Contact the team at the Yoshikane-Toyama Real Estate Group today! Call 714.501.7132 or email them here.