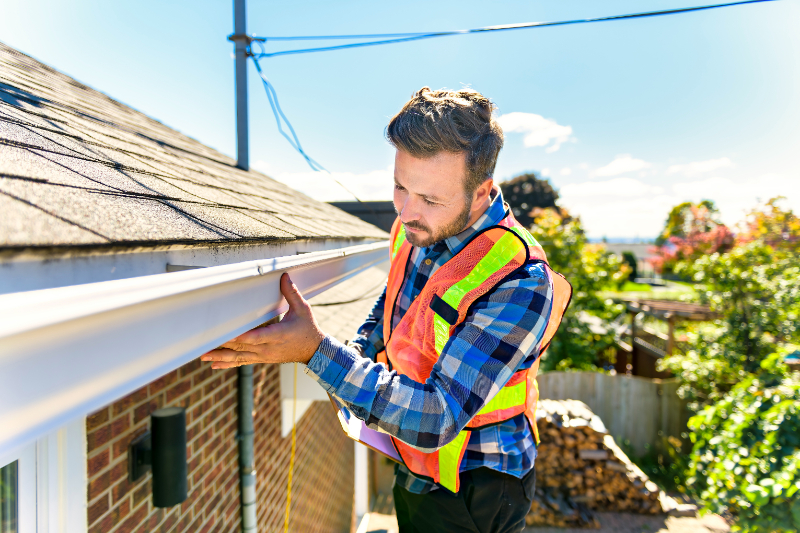 Selling a property is a significant undertaking and ensuring that your roof is in top condition is crucial for a smooth and successful sale. From boosting your home's value to preventing potential issues down the road, there are many reasons why getting a thorough roof inspection is one of our top tips for selling your home.
IT GIVES YOU AN ACCURATE ASSESSMENT OF YOUR ROOF'S CONDITION
A professional roof inspection can provide you with a detailed report on the current condition of your roof. This can help you identify existing issues such as leaks, damaged shingles, or flashing problems that may need to be addressed before listing your home for sale. Addressing these issues proactively, in turn, can prevent potential delays or complications during the home-selling process.
IT CAN HELP YOU ACCURATELY PRICE YOUR HOME
When you know that your roof is in good condition, you can confidently put a price on it knowing there aren't any major structural issues. Conversely, if your roof has issues, an inspection allows you to adjust your pricing or factor in the cost of repairs or replacement. Either way, it will help you avoid unexpected costs down the line and overpricing or underpricing your home.
IT CAN STREAMLINE THE HOME INSPECTION PROCESS
During escrow, the buyer's home inspector will likely perform a thorough inspection of your home, including the roof. If you have already had a roof inspection and addressed any issues, it can help make the home inspection process smoother and prevent potential surprises or delays. Showing that you took steps beforehand in inspecting and maintaining your home can also instill confidence in potential buyers.
IT CAN ADD TO YOUR NEGOTIATING POWER
If issues are identified during the inspection, you can either choose to address them before listing your home or adjust your asking price accordingly. Whichever you choose, simply being transparent about the condition of your roof puts you in a better position to negotiate with buyers and avoid costly surprises or concessions during the negotiation process.
COMMON ROOF ISSUES IN NEWPORT BEACH, CA
Here are some common roofing issues you may encounter with your Newport Beach home:
Saltwater damage. If you're located close to the coastline, the salt in the air and water can cause corrosion and accelerated wear and tear on your roof, leading to leaks, rust, and other issues.

Sun damage. Newport Beach is known for its sunny climate but prolonged exposure to intense sunlight may have caused damage to your home's roof over time. In particular, UV rays from the sun can cause parts of the roof to deteriorate, fade, and become brittle. This leads to cracks, leaks, and overall reduced functionality.

Wind damage. The city is also known for being prone to strong winds, especially during hurricane season. High winds can damage your roof by lifting shingles, causing them to break, come off, or damage other roofing components such as flashing, vents, or gutters.

Wildlife damage and debris accumulation. Newport Beach's beautiful flora and fauna can actually cause some damage to your roof. Birds may nest in roof vents or gutters, leading to clogs and damage. Meanwhile, squirrels or raccoons may scratch or chew on roofing materials. Leaves, twigs, and debris from nearby trees can accumulate and trap moisture, resulting in rot and mold.
Looking for more tips and tricks on how to sell your house fast in Newport Beach, CA? Get in touch with our expert team at the Yoshikane-Toyama Real Estate Group today! Call 714.501.7132 or email them here.